The History of Madonna del Castello
The name Madonna del Castello is taken from a shrine to Our Lady located in the town of Formicola, Province of Caserta, Italy. In English, Madonna del Castello means our Lady of the Castle.
The tradition behind the story is unique. Just outside Formicola is a mountain called Il Monte Del Castello (the Mountain of the Castle) which was named after a castle that was located there in the Middle Ages. From this mountain, the people of the town gathered wood for cooking and heating their homes.
Over 600 years ago on a wintry day one of the townswomen went to Il Monte Del Castello to gather some wood. With her, she carried her infant child bundled in a cradle. When she began gathering wood, she set the child down near a large rock.
Upon returning to the place with an arm load of wood, she saw to her horror that her child was being carried away by a wolf. Completely helpless the woman had recourse to a deep faith in the Blessed Virgin, and she prayed and pleaded for the rescue of her child. Our Lady appeared at the rock and beside her on the ground lay the lost child.
Overcome with joy and filled with a deep gratitude, the woman returned to Formicola telling the townspeople of the miracle that had been granted. Soon after she began to solicit funds for building a shrine to commemorate the favor.
The people of the town, moved by her story and by devotion to Mary, built a chapel on the mountain which became known as the chapel of the Madonna del Castello. Many pilgrimages were made to the shrine, and over the years, devotion of the Madonna increased to such an extent the erection of a larger church was necessary. It is after this church that our church in Swissvale is named.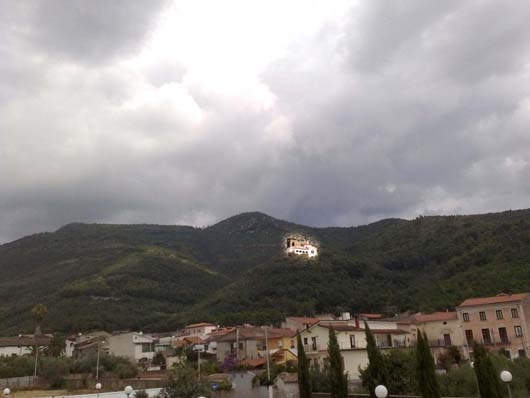 Did you know that Pittsburgh shares something in common with the town of Formicola in Italy where the Madonna del Castello is the patron saint?  Click here to learn more (contributed by Dominic & Anna Cappella).